I will, I will make this briefer. I will try.
[Besides, I've got other things to do and numerous other posts swimming around inside my head. At this moment they feel infinitely more interesting but nowhere near as warm and fuzzy nor nostalgic.]
The third day of our Parkhopper Pass was also our last. We started the day early (especially in relation to the 10am Disneyland opening) so we had time for a rather leisurely breakfast in our room and time to make a loose plan for our day. I don't remember our actual list of last chance "to-dos" but it was short. Seeing the not-yet-met princesses (specifically Snow White, Cinderella, and Sleeping Beauty) was at the top, as well as repeats on a few favorite rides.
When we first entered the park (pre-10am opening) I ducked into the Blue Ribbon Bakery for a coffee and some sweet treats. I got an okay mocha, a chocolate croissant that Tony ate, a cinnamon twist that Dot and I shared and an ah-mah-zing "Mickey Cookie" that we all split later in the day. Oh My God, that cookie was so good. I would have thought chocolate on top wouldn't work, but it did. It so, so did.
Upon opening I rushed to the Princess line (now that we were such experts) hoping that we could get the biggest must-do on our list out of the way quickly. I waited half an hour before it opened and we all waited 20-30 minutes after that. But get this, the princesses walked out, as they were rumored to do, at 10:30am and, lucky us, there were our Top Three: Snow White, Cinderella, Aurora! We were stoked (and relieved); Dot was ecstatic. We took video of her meeting the "ladies" (as we have referred to them since she first became curious at about 18months) that is too precious for words. We also got some really amazing pictures thanks to the parks PhotoPass program.
The PhotoPass was one of the things we wished we'd been more familiar with earlier. Basically once you have your photo taken you've given a card that links you up with your unique online gallery. There are photogs all over both Dland and CA and if you give them your card they will scan it and any pictures they take are automatically added to your gallery. You can also give them your camera and they will happily takes pictures with it as well. We were able to get a good amount of family photos that turned out so much better than they ever do when you hand your camera to a stranger and hope that everyone isn't cut off at the knee. We ended up purchasing the PhotoPass CD for a reasonable sixty (or so) bucks and it came within a few days of ordering. If you are going to do this I definitely recommend going through and applying a bunch of the little Disney special edits to your photos. They come added onto the CD for free.
Anyway, Dot met the princesses and we exited to the right where there was a princess store area set up. Here we let her pick out the Rapunzel dress she had been wanting for months that she used her own money to buy. She also made a little charm necklace and considered getting her face painted. We were there for a good fifteen of twenty minutes, during which I noticed the princesses switch out! Bye-bye to the Big Three and hello to Belle, Jasmine, and friends. OMG, we were a mere ten minutes from seeing the same ones we'd seen the night before, the same ones we'd seen in the park already! We walked away feeling VERY fortunate to have crossed those princesses off our list and vindicated for my practically sprinting through the park to get in line.
We tried to coax Dot onto some of the other Fantasyland rides (Peter Pan, Mr. Toad's, Pinocchio) and we almost had her on Pinocchio but she freaked at the last minute. Tony rode alone with M&M and after that we let it go. We walked over to Adventureland where we hadn't spent much time and walked through Tarzan's Treehouse. Tony grabbed a Fastpass for Indiana Jones and we met Jasmine (again) and Aladdin before making our way to the Enchanted Tiki Room.
Sidenote: I was curious why Aladdin was the only prince we saw and Dot was as well. Hmmmmm.
While we waited to get into the Tiki Room we shared one of these delicious Dole pineapple ice cream floats. Wow, so good. Made the rather lame Tiki show worth it. Yeah, singing robotic parrots don't hold up so well in this technological age. But the dark room was a nice place to nurse M, so we were happy.
Next I think we headed toward Thunder Mountain. No surprise, right? Then Tony went on Indiana Jones and the girls and I re-toured the Treehouse. We then finally got the girl to walk through Sleeping Beauty's Castle with us. She was nervous, but she loved it. After that we headed back to California Adventure. We had hopes of catching lunch at Ariel's Grotto and more character meets but, without a reservation, we couldn't wait 40+ minutes for lunch at 2pm. We got some picnic lunches from the Sonoma Terrace at the Golden Vine Winery that were surprisingly good. Tony and I had the All-American and Dot had PB&J.
After that we discovered an entire area of the park that we had yet to explore and Dot's beloved Jellyfish ride. It was rather tame, aside from that it takes you 40 feet in the air. She loved it and went twice. We considered going on more rides (a repeat of Monster's Inc. and/or Soarin' California) but exhaustion was setting in and we still needed to do some souvenir shopping, preferably before the night crowds descended upon Main Street.
We headed back over to Disneyland. This was about 2:45pm. At the entrance to Main Street we came across Chip, Minnie, and Mickey so we went through another round of meet and greets, autographs, and pictures. Then we braved the Main Street Emporium, which was so much bigger than it looks! We found a T-shirt for D, a onesie and adorable little ears hat for M, some gifts for upcoming birthdays, magnets, and even remembered to get some legit '1st Visit' buttons. M was being a fusser and D quickly tired so I headed outside…and there were Mary Poppins and Bert!
We had seen Mary Poppins previously, in front the of castle, but from afar. She was the one character I had said I hoped we'd see again. So I got in line for an autograph. D sat nearby in the stroller. M cried to nurse. I craned my neck and hoped Tony would emerge quickly. He did, just in time, and we got a family picture with two quickly-wearing-out girls.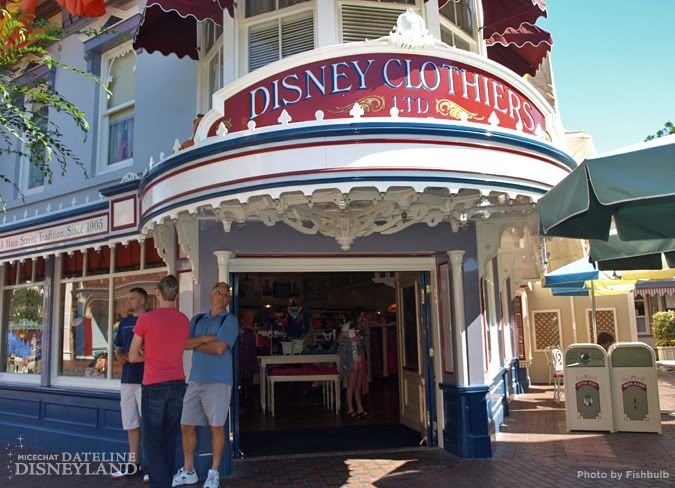 We headed down Main Street as Daddy fed baby a bottled of previously [hand] pumped milk. He stopped into a little shop to get a pickle, as he and Dot had enjoyed one the day before. They sat at an outside bistro table while I ducked into Disney Clothiers Ltd in hopes of finding something Disney that I might wear on a regular basis. This store was much more stylish (in my opinion) and I wished we'd browsed there first before buying the girls' stuff. A foolish wish though because later when we returned for Tony to look we nearly bought the place out and Dot came home with quite the haul. Lucky, lucky kid.
I think from here were walked through Fantasyland again. Dot and Daddy went on the tea cups while I tried to nurse M&M to sleep. Then they got in line for the Storybook Canal ride. Remember, our worst ride experience? This time I stayed outside the line and got the babe in a good and deep sleep and joined the other half of our party at the front. Much more enjoyable this go-round!
And then we headed back to Thunder Mountain. We easily rode 3-5 times. The last time I went with D I remember purposefully trying to savor the moment. We may go to Disneyland again, but Dot will never be three. Her laughter may not be as infectious, her joy as obvious, her excitement as contagious. Certainly her love for roller coasters will not be as remarkable as she will no longer be the littlest rider. So I watched her face and squeezed her hand and treasured her giggle. And when I got off I wondered aloud if there was a way to video tape her on the ride…
So Tony did.
And now I can hear her screech and see her eyes light up for years to come.
Priceless.
Before we left Thunder Mountain we had a PhotoPass guy take some pics of all of us, then just Dot, in front of her favorite ride. I think the memories, and the physical reminders of them, are one of those things Disney is just crazy good at.
We headed back down Main Street and stopped in to loot Disney Clothiers and then stopped again at the Emporium in search of an M&M shirt that would match the what the rest of us got. We got a final picture of the fam in front of a lit-up Main Street…and then we left.
It was about 6:15pm. Dot whined and cried a little. It was hard to go. But she was exhausted and was asleep on Tony's shoulder by the time we left the extended Disneyland grounds. Somehow Tony managed to carry her (about 37lbs) the entire mile back to our hotel.
We got takeout from The Cheesecake Factory. I'd never had. My burger was just okay, but the cheesecake was amazing. We got a slice of cookie dough and some peanut butter concoction. I had only a few bites before passing out but ate it for breakfast the next morning.
We had to leave by 8am to catch our 10-something flight home. That included checking out, returning the rental car, car seats and stroller, etc. We made it right on time (even during Thursday morning LA-area rush hour traffic) and the flight home was quick and easy. We were home by 2pm…and glad to be 🙂